Wondering what the run-of-show will be during the 10 AM Champlain College commencement ceremony for on-campus undergraduates?
Welcome to the one hundred forty-fifth Champlain College commencement! The ceremony for our on-campus undergraduate Class of 2023 will be held at 10 AM on Saturday, May 13 at the Champlain Valley Exposition in Essex Junction, Vermont. View a brief run-of-show below.
A livestream will be available on the homepage of this commencement website.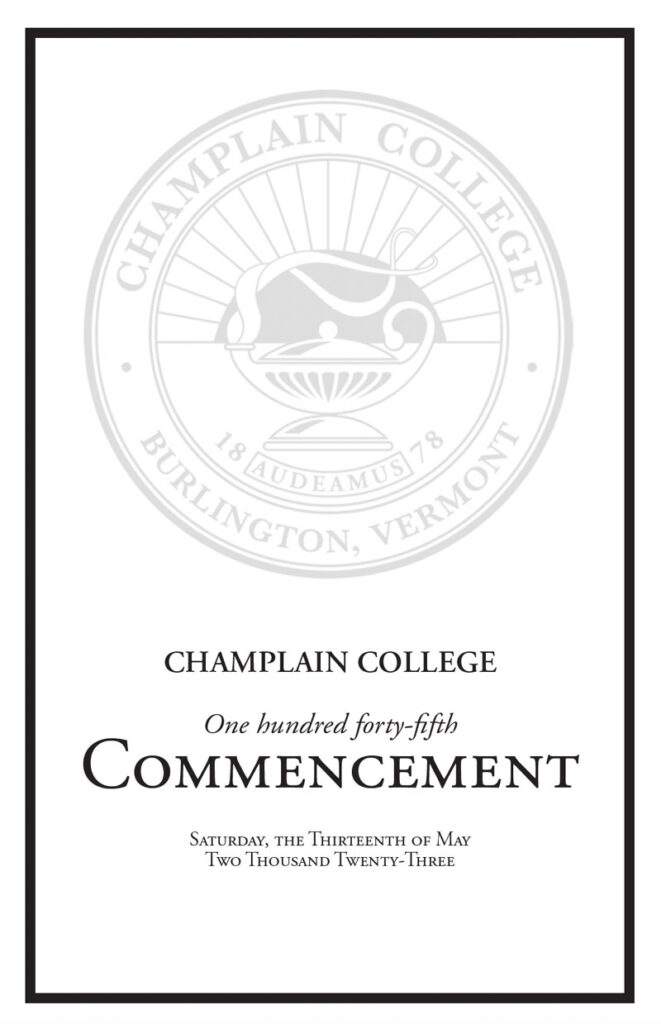 PROCESSIONAL
NATIONAL ANTHEM
Root7 a cappella
BOARD OF TRUSTEES WELCOME
Colin Owyang, Vice-Chair, Board of Trustees
CONVENING OF THE COMMENCEMENT EXERCISES
Dr. Monique Taylor, Provost & Chief Academic Officer
CLASS OF 2023 SENIOR ADDRESS
Olivia Sommerer '23, Degree Design Lab
MESSAGE FROM THE PRESIDENT
Alejandro Hernandez
CONFERRING OF HONORARY DEGREE, HONORIS CAUSA
Led by Alejandro Hernandez
Presented to Dr. Aminata Touré, Doctor of Humane Letters, Honoris Causa
Presented by Erik Esckilsen, Professor, Core Division
ADDRESS TO THE GRADUATES
Dr. Aminata Touré
PRESENTATION OF CANDIDATES FOR DEGREES
Dr. Monique Taylor
CONFERRING OF BACHELOR DEGREES
Alejandro Hernandez
RECESSIONAL
POST-GRADUATION GATHERING
Expo North & Outdoors