Honorary degree recipient Aly Richards, chief executive officer of Let's Grow Kids, will speak to the Champlain College traditional undergraduate community on Saturday, May 14, 2022 and receive a Doctor of Public Service, honoris causa.
Let's Grow Kids is a statewide organization leading the campaign to solve Vermont's child care crisis by 2025. Champlain College is recognizing Richards' work this May with an honorary degree.
Let's Grow Kids has created a movement, mobilizing support from more than 35,000 Vermonters as well as businesses, early childhood educators, community-based organizations, and the state's Governor and tri-partisan legislature, which passed landmark legislation in 2021 that put Vermont on a path to transform its child care system.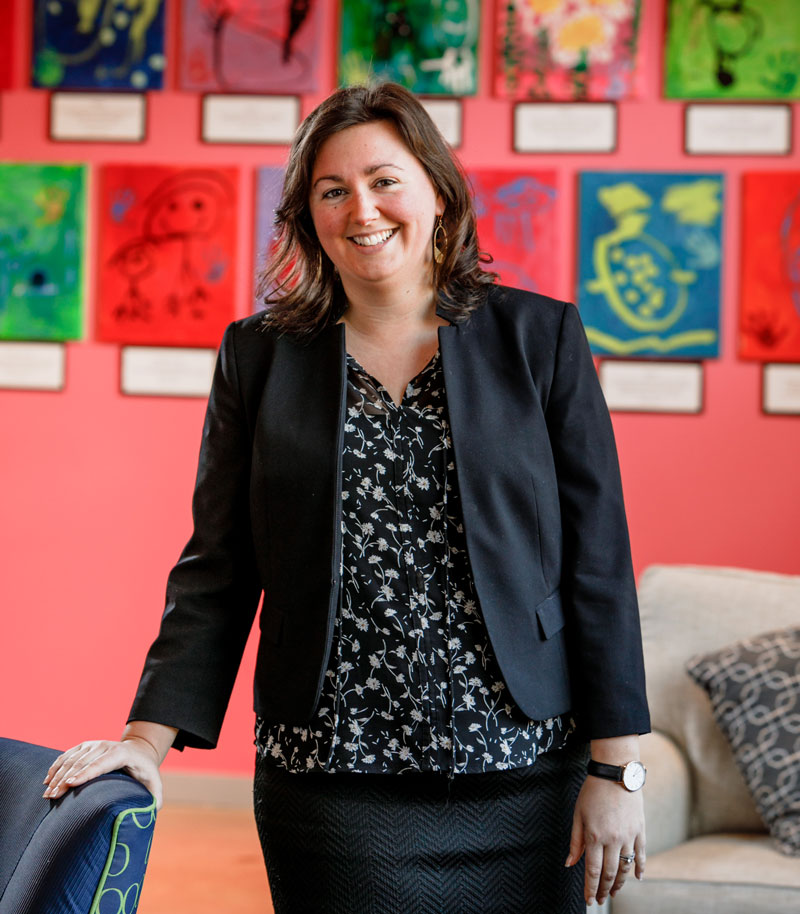 Prior to her current role, Richards served as the Deputy Chief of Staff for Vermont Governor Peter Shumlin where she led the effort to pass Vermont's universal Pre-Kindergarten legislation, which established Vermont as a leader in early childhood education policy and significantly increased access to early childhood education opportunities for Vermont's youngest learners.
Her commitment to education dates back to 2001, when Governor Howard Dean appointed her as the youngest person to serve as a student member on the Vermont State Board of Education. Richards also served on the 2008 Obama Campaign after graduating with honors in International Relations from Brown University.
For her leadership, in 2019 Richards was honored by Save The Children as a Changemaker for Children; in 2013 as a Toll Fellow by the Council of State Governments; and, in 2014 as the Vermont Champion for Education by the New England Secondary School Consortium.
Richards is also actively engaged in her community, serving as a Trustee of the University of Vermont Medical Center and Vice-Chair of the Board of the Vermont Council on Rural Development, and is a former Trustee of the Vermont State Colleges.
Aly, her husband James Pepper, their identical twin toddlers Beau and Wesley, and two dogs Bella and Ellie, live in Montpelier, Vermont and can often be found at a local creek in search of the perfect skipping rock, sampling apple cider donuts and maple creemees across the state, and partaking in the many adventures of the Green Mountains, from VINS to the Burlington Bike Path.
Find more information about Commencement 2022 at commencement.champlain.edu and stay up-to-date on the latest news from Champlain College here.