Have questions about Champlain Commencement 2023? Below are answers to some frequently asked questions!
Commencement will be held at the Champlain Valley Exposition: 105 Pearl St, Essex Junction, VT 05452
What day and time is Commencement?
Commencement 2023 is on Saturday, May 13.
The on-campus traditional undergraduate ceremony is at 10 AM.
The Champlain College Online undergraduate and Master's ceremony is at 3 PM.
What time do I need to arrive? What is the run-of-show for each ceremony?
10 AM CEREMONY:
8:00 AM Doors open for guests
9:00-9:30 AM Student check-in
9:45 AM Commencement procession begins
10:00 AM Ceremony Begins
Post-Ceremony Gathering in Expo North and outside to follow
3 PM CEREMONY:
2:00 PM Doors open for guests
2:00-2:30 PM Student check-in
2:45 PM Commencement procession begins
3:00 PM Ceremony begins
Post-Ceremony Gathering in Expo North to follow
How many guests can each graduate bring?
Each graduate is allowed up to eight guests. You do not need a ticket to attend.
Where can I find photos from the ceremonies?
Grad Images will take official photos of the graduates on stage as well as a posed photo with their diploma once they exit the stage. Graduates will be emailed a link with their photos for purchase in the weeks following the ceremony.
We will also have an event photographer at the ceremonies capturing candids. These photos will be uploaded to the Champlain College Flickr account in the weeks following the ceremony.
Will the ceremony be livestreamed?
Where can I find hotel information?
What transportation is available?
There is plenty of parking available at the Champlain Valley Expo. If assistance is needed, golf carts will be available to get you to the entrance. Shuttle service will be available to and from Champlain College in Burlington for those who will require transportation to the Champlain Valley Expo. Please do not bring items such as purses or backpacks as there is no secure place to keep them.
We also provide shuttle service from Champlain College to the Champlain Valley Expo. Here is the schedule: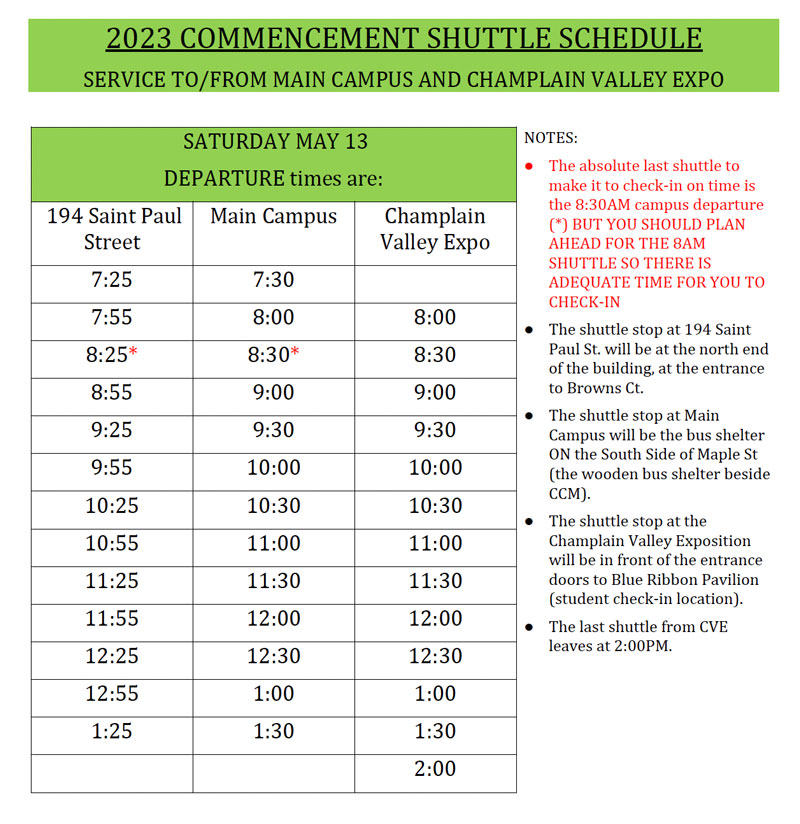 Is the Champlain Valley Exposition accessible?
The Robert E. Miller Expo Centre is fully accessible. Our Commencement staff are pleased to direct our guests with accessibility needs to a designated section of the Expo Centre. We ask that you plan for one additional family member to sit in that section as well. The staff will assist you if needed. Please plan to arrive early. If you are a graduating student who has accessibility needs, please graduation@champlain.edu.
Are pets allowed at the ceremony?
Absolutely no pets, besides properly identified service animals, are permitted at the ceremonies or post-ceremony gatherings. We appreciate your cooperation.
Will there be a concession stand? Is there a post-ceremony gathering?
Prior to each ceremony, paid concessions (light snacks and beverages) will be offered outside the main guest entrance to Expo South, as well as a floral vendor, and the Champlain College Campus Store. Following each commencement ceremony, we will have a brief post-ceremony gathering for graduates, guests, faculty and the platform party in Expo North at the Champlain Valley Expo. Join us for cake and beverages!
When will I get my honors stoles and sashes?
If you are eligible to receive honors stole(s) or sash(es), they will be given to you when you arrive and check-in at Commencement.