Have questions about Champlain Commencement 2022? Below are answers to some frequently asked questions!
Commencement will be held at the Champlain Valley Exposition: 105 Pearl St, Essex Junction, VT 05452
What day and time is Commencement?
Commencement 2022 is on Saturday, May 14.
The on-campus traditional undergraduate ceremony is at 10 AM.
The Champlain College Online undergraduate and Master's ceremony is at 3 PM.
What time do I need to arrive? What is the run-of-show for each ceremony?
10 AM CEREMONY:
8:00 AM Doors open for guests
9:00-9:30 AM Student check-in
9:45 AM Commencement procession begins
10:00 AM Ceremony Begins
Post-Ceremony Gathering in Expo North and outside to follow
3 PM CEREMONY:
2:00 PM Doors open for guests
2:00-2:30 PM Student check-in
2:45 PM Commencement procession begins
3:00 PM Ceremony begins
Post-Ceremony Gathering in Expo North to follow
How many guests can each graduate bring?
Each graduate is allowed up to eight guests. You do not need a ticket to attend.
Where can I find photos from the ceremonies?
Will the ceremony be livestreamed?
Where can I find hotel information?
What transportation is available?
There is plenty of parking available at the Champlain Valley Expo. If assistance is needed, golf carts will be available to get you to the entrance. Shuttle service will be available to and from Champlain College in Burlington for those who will require transportation to the Champlain Valley Expo. Please do not bring items such as purses or backpacks as there is no secure place to keep them.
Here is the shuttle schedule for transportation from Champlain College to the Champlain Valley Expo.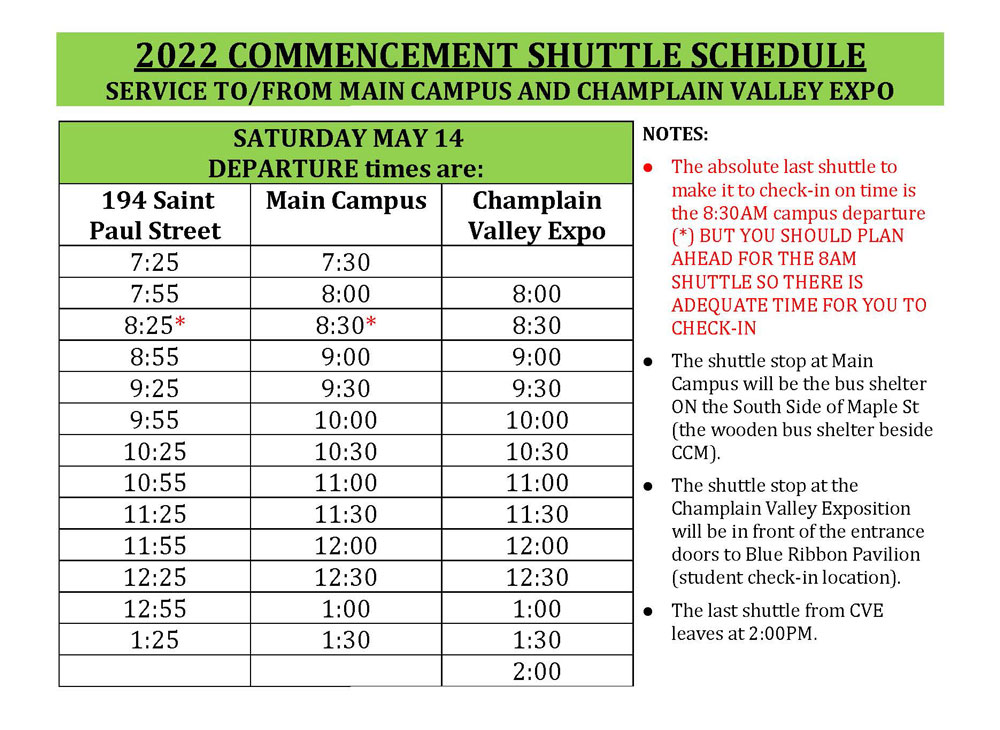 Is the Champlain Valley Exposition accessible?
The Robert E. Miller Expo Centre is fully accessible. Our Commencement staff are pleased to direct our guests with accessibility needs to a designated section of the Expo Centre. We ask that you plan for one additional family member to sit in that section as well. The staff will assist you if needed. Please plan to arrive early. If you are a graduating student who has accessibility needs, please graduation@champlain.edu.
Are pets allowed at the ceremony?
Absolutely no pets, besides properly identified service animals, are permitted at the ceremonies or post-ceremony gatherings. We appreciate your cooperation.
Will there be a concession stand? Is there a post-ceremony gathering?
Prior to each ceremony, paid concessions (light snacks and beverages) will be offered outside the main guest entrance to Expo South, as well as a floral vendor, and the Champlain College Campus Store. Following each commencement ceremony, we will have a brief post-ceremony gathering for graduates, guests, faculty and the platform party in Expo North at the Champlain Valley Expo. Join us for cake and beverages!
Will I get a digital diploma?
Yes. On the morning of Saturday, May 14, you will receive an email inviting you to download your digital diploma. If you are attending Commencement in person, you will receive your diploma as you walk across the stage. If you do not attend in person, your physical diploma will be mailed to you in the following weeks.
How do I order a Commencement T-shirt or sweatshirt?
You can order a Commencement T-shirt, sweatshirt, or bouquet of flowers from the Champlain campus store here. Pre-ordering is encouraged; orders will be available for pick-up onsite at the Expo.
Graduates can enjoy $25 off an order of $100 or more by following these steps:
Visit Grad25.com
Enter your personal email address
Enter access code: 1807
Use the coupon code from your email online for your discount when ordering here.
Senior Week is Monday, May 9—Thursday, May 12. Sign up by Friday, May 6 at the HUB desk in the IDX Student Life Center.
Where can I find the latest communications sent to graduating students?