Are you celebrating your big milestone via our livestream? Let's make your celebration Champlain-centric!
We know some of our Champlain College Online undergraduate and master's students may not be able to make it in-person to commencement. That's why we've put together a few fun tips and tricks on how to celebrate your graduation.
We're hosting a virtual watch party so you can celebrate with your classmates on InSpace. Join us for some fun on graduation day!
We also have plenty of props to help you show off this important day. After all those hours of studying and hard work, you finally did it!
And it's time the world knows it.
Wear Your Cap and Gown
If you're a Champlain College Online student tuning into graduation via livestream, we encourage you to throw on your cap and gown. The more aspects of in-person graduation you can mirror at home, the better!
You deserve to flaunt this look, and if you already have them at the ready, why not? Want to go the extra mile? Throw on some dress clothes under your graduation gown to really strut your stuff.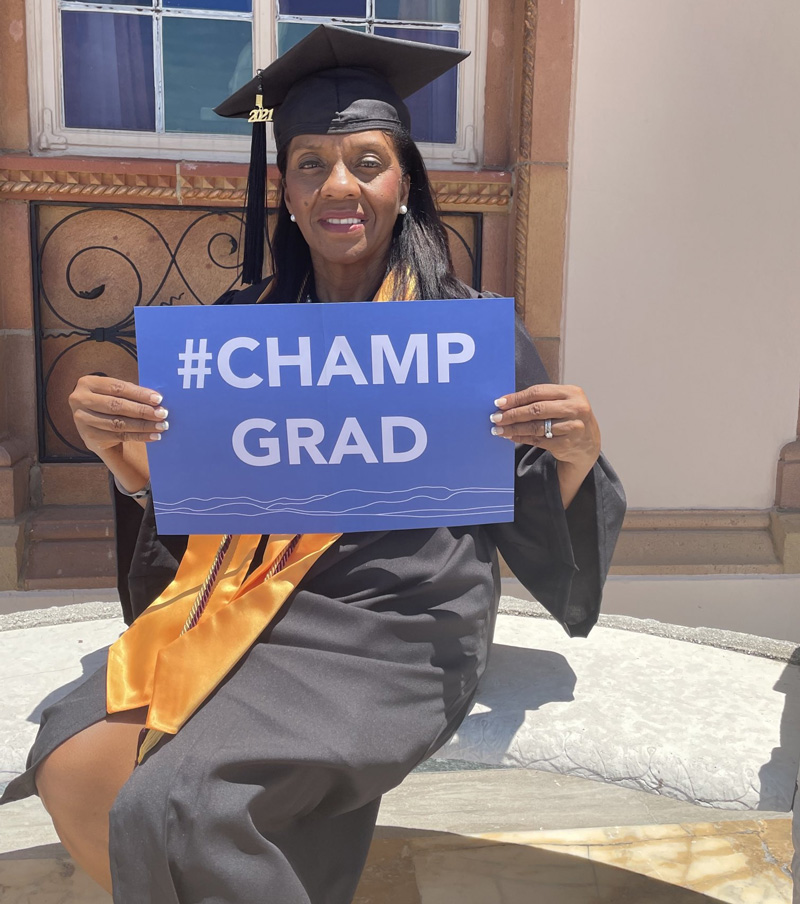 Use Props and Decorations
We have signs available to download that invite you to fill out one of the below prompts:
I graduate proud of…
I dared to…
I graduate excited to…
I want to thank…
Take a selfie of yourself holding one or more of these signs or have someone take a pic of you and/or your family members holding them. Post them to social media using the hashtag #ChampGrad and tag @champlainedu.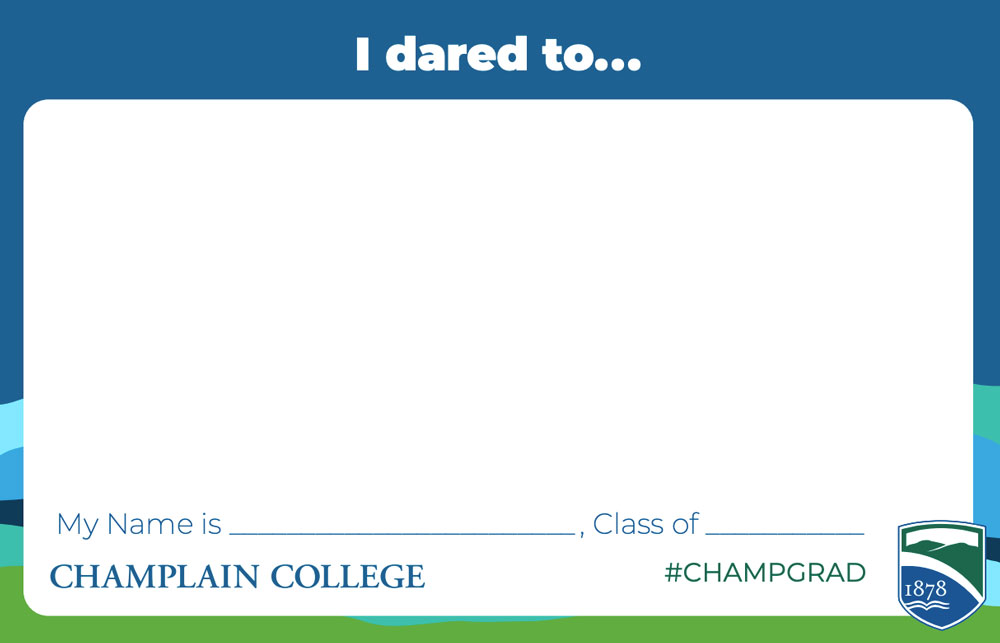 Think about what other props you might have laying around the house that could add to the experience! Some old birthday streamers, party hats, Champlain swag, and more.
Zoom Backgrounds
Celebrating virtually with friends and family? Add a fun Champlain Zoom background to your party!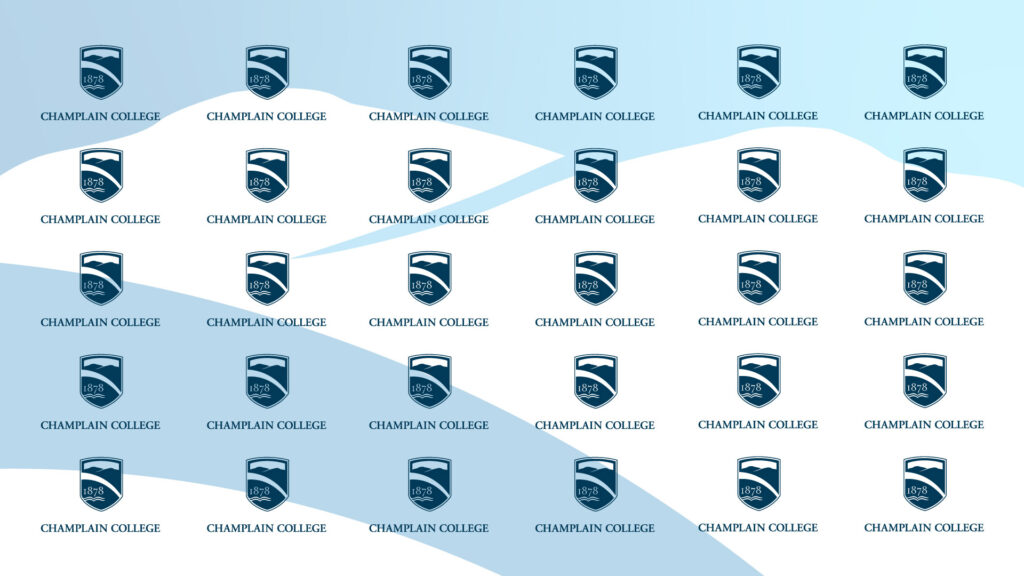 Find more Champlain Zoom backgrounds here, including photos of campus, Burlington, the Vermont ski mountains, and our satellite study abroad campuses in Dublin, Ireland and Montreal, Canada.
Instagram Post Frame
Download this Instagram post frame and add a photo of yourself in the polaroid frame! Then, post to your timeline and use the hashtag #ChampGrad!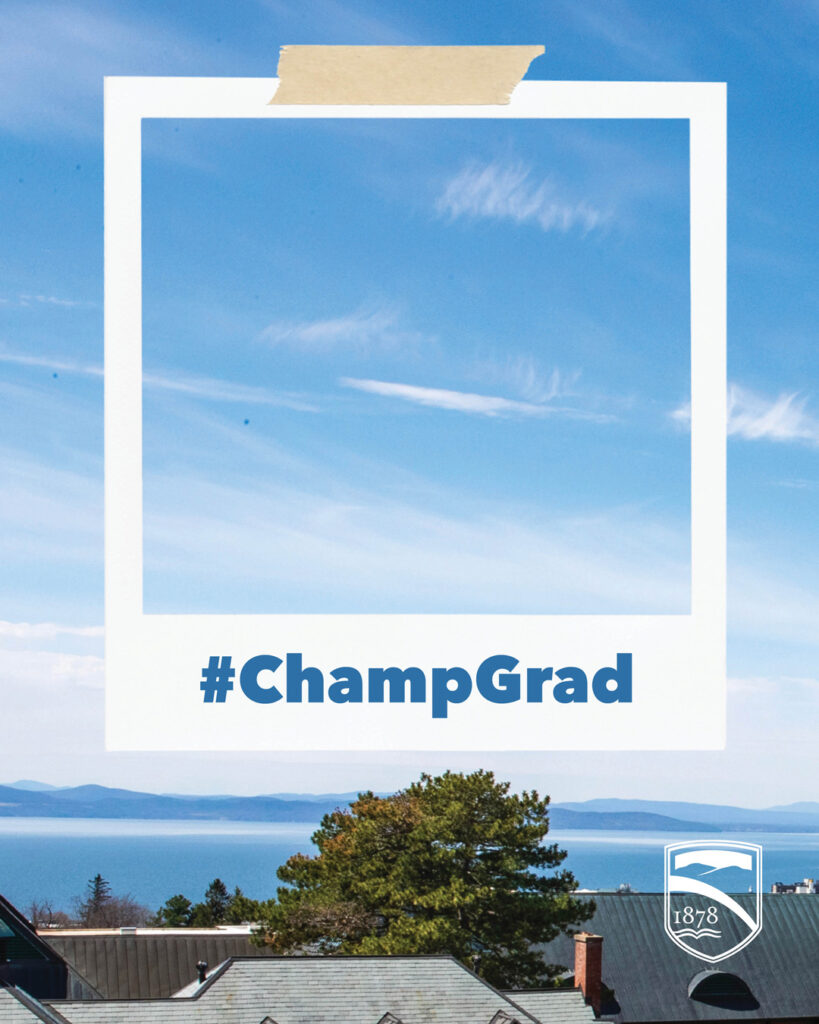 Instagram Stories and Phone Wallpapers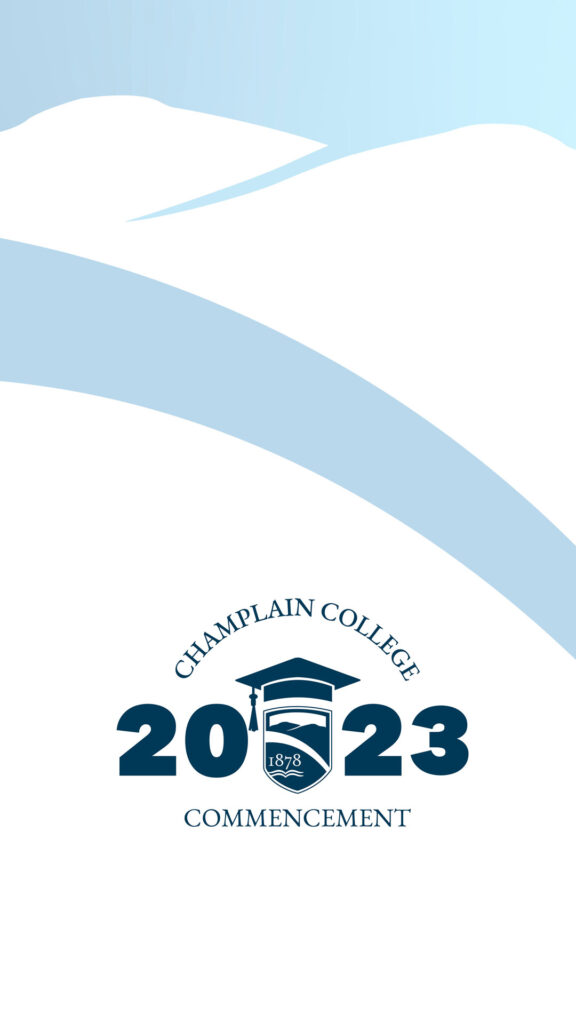 What's on the Menu for Virtual Graduation?
Are there certain foods and drinks that will make your celebration special?
Before you head out on your next grocery store run, plan what you'd like to eat and drink on graduation day. Maybe you want to bake a cake, or some fun cupcakes. Maybe you have a favorite meal you'd like to munch on, or if snacks and apps are more your thing, this might be the perfect time to give in to your nachos and mozz sticks cravings.
Want a taste of Vermont? Add pancakes and maple syrup to the menu, or some Cabot cheese, and top it all off with a delicious pint of Ben & Jerry's.
While you're in the beverage aisle, grab some sparkling apple juice or a bottle of champagne. You've accomplished a lot, and been through so much, and now it's time to cheers to you!
Celebrate the Traditional Moments
A few moments of commencement are must-haves, and these moments may mean different things to different people. If they mean a lot to you, we encourage you to actively celebrate these moments. If able, have someone record you so you can reminisce for years to come.
If you're celebrating with family or friends, take some photos
When your name is being read, have someone hold your diploma cover, or put it across the room. When your name is called in the sub-ceremony, walk "the stage" over to your diploma, and take in the moment.
Flip your tassel from right to left once the Champlain President confers your degree
Throw your cap in the air at the conclusion of the virtual event
Take Photos and Videos, and Then Post Them and Tag #ChampGrad!
There are so many possibilities for how to make your online graduation ceremony as exciting as possible. Share your celebration with your classmates, families, professors, Champlain staff, and the community! Snap photos of you in your cap and gown and show us pics of how you're celebrating.
Then, post your photos to Twitter, Instagram feed, or on our Champlain College Facebook timeline and tag #ChampGrad to be featured on our social media tag wall during commencement. Don't have social media? Is your social account private? Click the QR code icon at the top of our social media wall or scan the QR code below and upload your photos directly to the social wall. Learn more about our social wall here.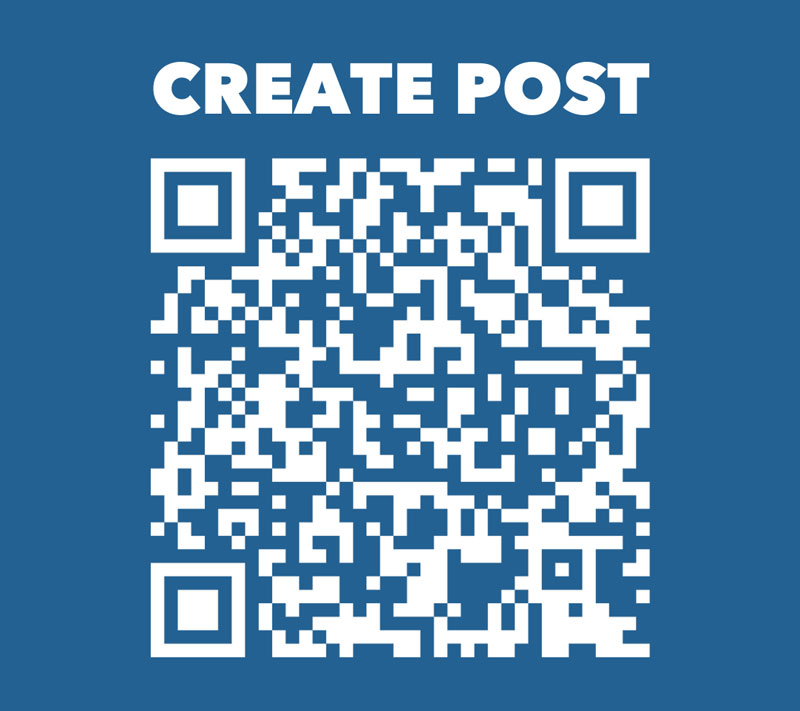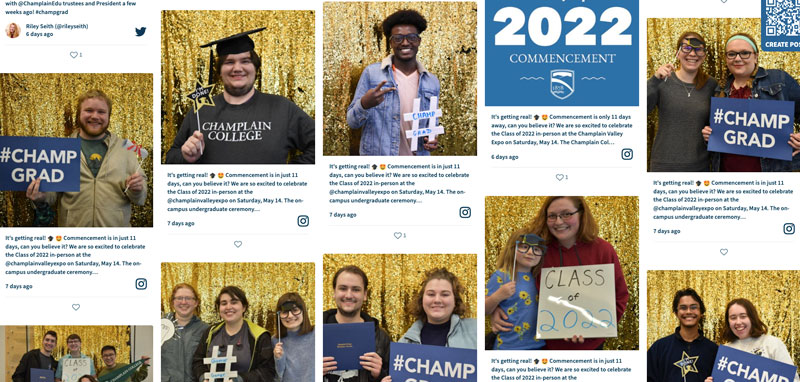 Invite Your Friends and Family to Virtual Graduation
Last, but certainly not least, invite your friends and family. Get on the phone with your peeps, and thank them for helping you get to this moment—because it's one you're going to remember forever.