Educational Innovation In the Heart of Burlington
Since its establishment in 1878, Champlain College has reinvented itself many times over, transforming its curricula in pursuit of its aim to provide an innovative, career-oriented education to serve the needs of students and employers. Along the way, Champlain's central values have remained based on distinctive excellence, sustainability, innovation, human touch, global engagement, and diversity and inclusion.
Champlain College was founded by Burlington educator George W. Thompson as the Burlington Collegiate Institute and Commercial College, a for-profit post-secondary school. Between 1878 and 1958, the school changed ownership several times, and its name also changed to: the Queen City Collegiate Institute and Commercial College (1879-1884), Burlington Business College (1884-1956), Green Mountain College of Commerce (1956), Champlain College of Commerce (1956-1958) and finally, Champlain College (1958-present).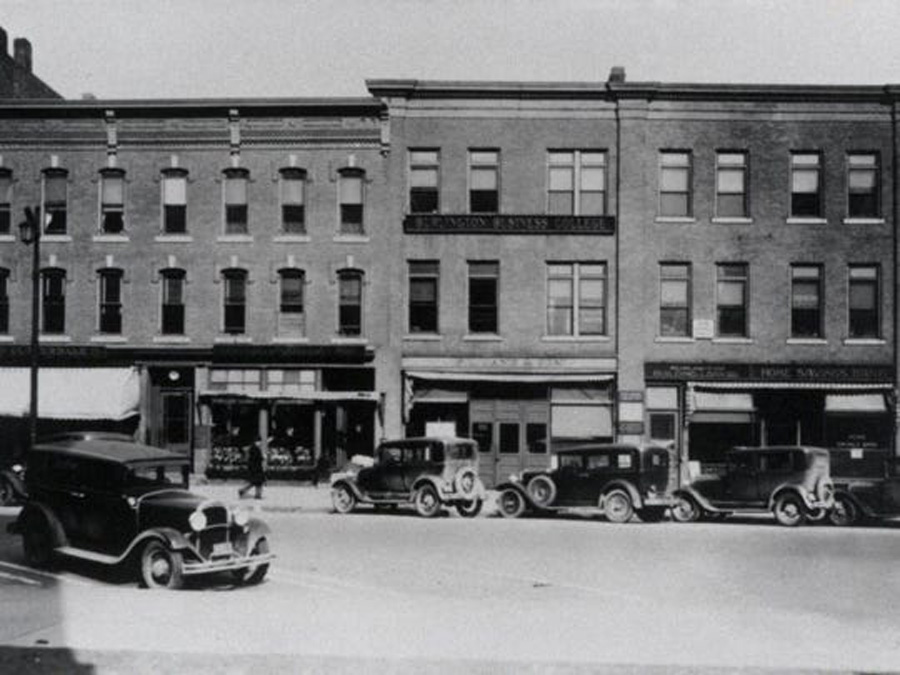 During the 19th century, the nationwide expansion of manufacturing and commerce led to an increased demand for trained clerks, bookkeepers, secretaries, and administrators. Hundreds of local and regional commercial colleges, including Champlain College, were established in the United States as a result. In its earliest years, Champlain offered one- and two-year college preparatory and business programs to students from Vermont, New Hampshire, New York's North Country, and Quebec, Canada, with day classes for traditional students and evening classes for working professionals. Topics of instruction included bookkeeping, arithmetic, penmanship (for legible business correspondence), typing, stenography, and telegraph operation. The College admitted female students from the time of its establishment in 1878.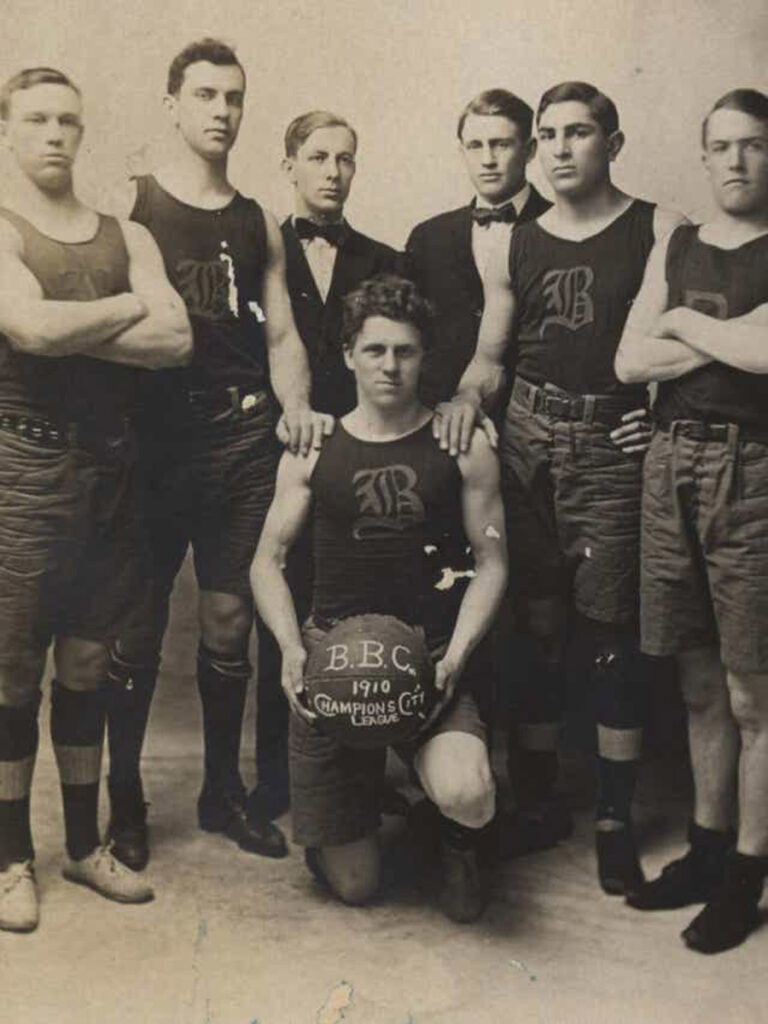 By 1920, Champlain was said to be "by far the largest of its kind in Northern New England," with an enrollment of about 100 students. By the 1940s, the College awarded degrees in Junior Accountancy, Stenography, Secretarial Science, Executive Secretarial Science, and Business Administration.
Downtown to the Hill Section
During its first 80 years, Champlain rented various classroom and office spaces in downtown Burlington. From 1911 to 1958, the College was located on the third floor of 182-190 Main Street, above the storefronts now occupied by Muddy Waters Coffee Shop and Nectar's Bar and Lounge. As Champlain did not have its own dormitories until the late 1950s, out-of-town students boarded with area residents. The College had strict rules for student behavior: smoking and drinking were not permitted on or off campus, and chewing gum was prohibited on school premises.
After many years of steady enrollment, Champlain's student body dwindled in the years following World War II. By the mid-1950s, the college was ailing, with only about 30 students. In 1956, businessmen C. Bader Brouilette and Albert Jensen purchased the college as a partnership. After Jensen died suddenly a few months later, Brouilette became sole owner and president. He quickly revamped the College's curricula to provide "specialized training in modern business methods," including associate's degrees in Accounting and Business Administration, Executive Secretarial Science, and Medical Secretarial Science. As a result, enrollment expanded to 100 students, and Brouilette began searching for property to establish a campus.
In 1958, President Brouilette purchased Freeman Hall, a 1903 carriage barn in Burlington's Hill Section neighborhood that had previously served as a University of Vermont dormitory. This new facility accommodated up to 250 students with modern classrooms equipped with the latest business technology. Over the next three decades, as enrollment grew to about 900 students, the College gradually purchased 19 additional Victorian buildings in the neighborhood, some of which had already been converted from their original function as single-family homes to apartments and dormitories. Champlain also constructed several new academic and student life buildings in its developing core campus, centered near South Willard and Maple Streets.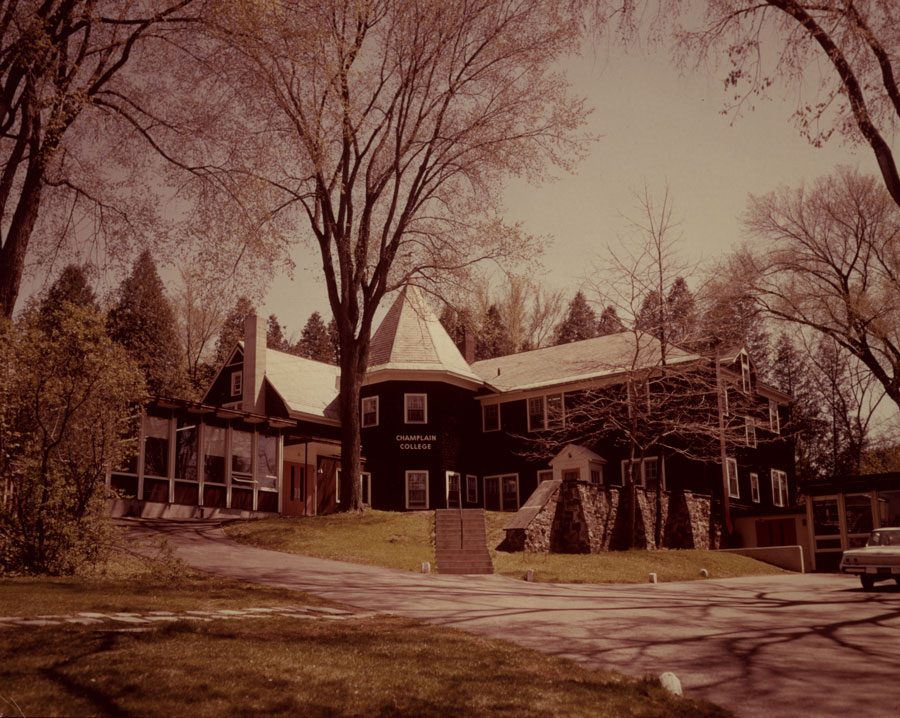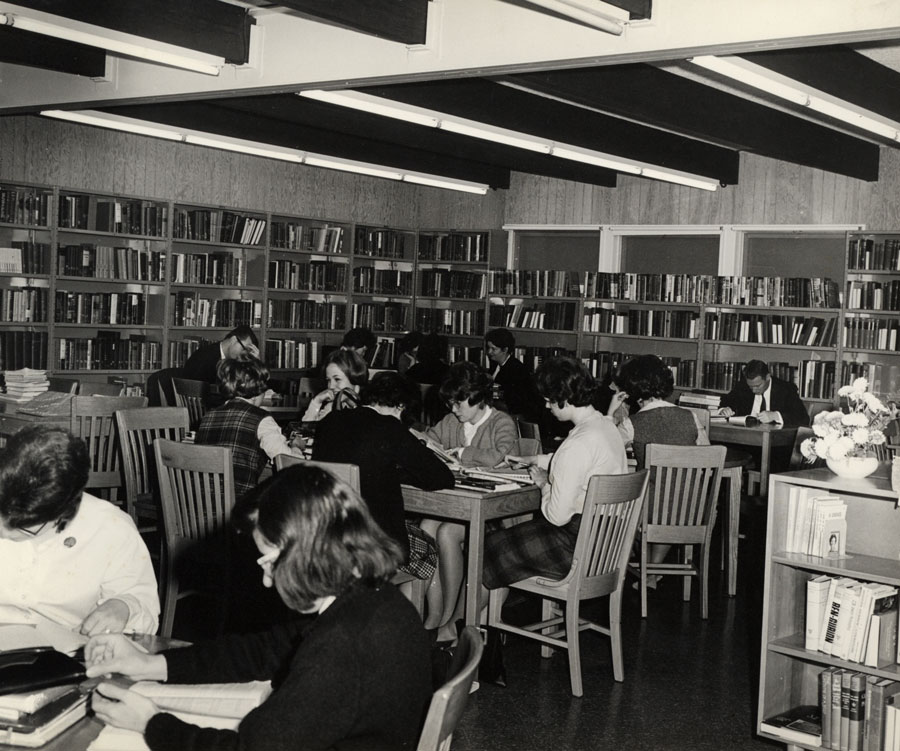 President Brouilette and his successor, Dr. Robert Skiff, positioned Champlain College as a junior college of regional and national importance, expanding its curricula to include other career-oriented programs and training students in cutting-edge technologies across these fields. Champlain was accredited as a junior college of business by the Accrediting Commission of Business Schools in 1960, became a nonprofit institution in 1966 and attained full accreditation as a junior college by the New England Association of Schools and Colleges in 1972.
Adapting to a Changing Marketplace
The College provided instruction on electric typewriters by 1959, had a punch card computer by 1963, and introduced a Data Processing major by 1966. By 1980, the College also had programs in Aeronautics, Fashion Merchandising, Management, Law Enforcement, Hotel and Restaurant Management, Early Childhood Education, Special Education, and Dental Assistantship, among others. Soon afterward, the College launched a Computer Camp program for children and a Computer Resource Training Center for working professionals.
Student life flourished in the 1950s, 1960s, and 1970s with the establishment of Champlain's first on-campus dormitories as well as many extracurricular activities, including student council, drama, glee, outing, and religious clubs, a student newspaper, intramural golf and bowling programs, a cheerleading team, and men's and women's basketball teams.
Champlain had strict housing regulations and dress codes to support the College's professional orientation: Female students were required to live at home, with relatives, or in a College dormitory—not in their own apartments. Men were expected to wear dress pants, dress shirts and neckties, and women were expected to wear skirts or dresses. In fact, faculty turned away students who came to class wearing blue jeans or miniskirts. Women were only allowed to wear pant suits after they complained vociferously about having to wear skirts and dresses during the harsh winter of 1970–71. This conservative dress code stayed in effect through the mid-1980s.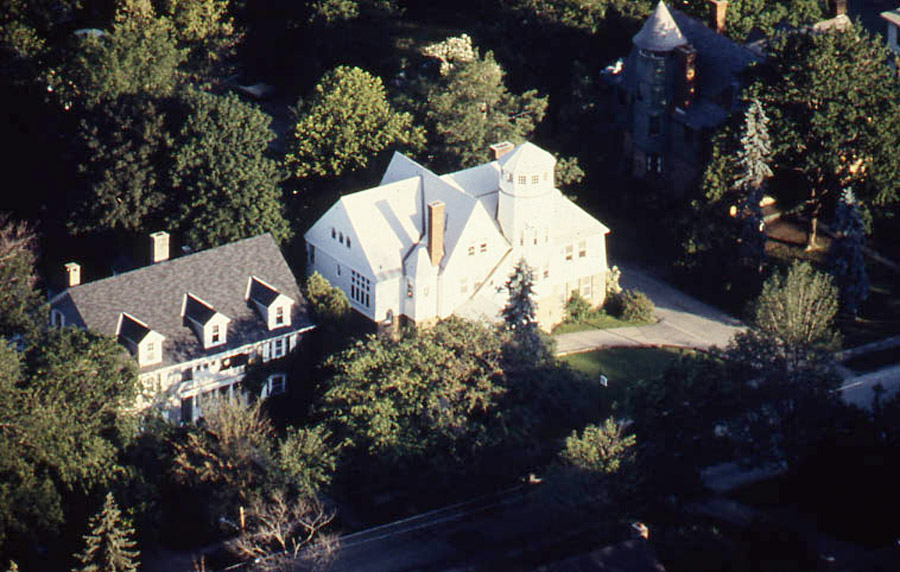 In the 1990s and 2000s, under the leadership of President Skiff and his successors, Dr. Roger Perry and Dr. David Finney, Champlain College transformed itself again, transitioning away from two-year associate's degree and certificate programs to four-year bachelor's degrees, graduate degrees, and online distance learning programs. It also added a distinctive undergraduate experience with its Upside-Down Curriculum, which allows students to enroll in classes in their major starting in their first semester.
In the mid-1990s, Champlain pioneered Vermont's first computer-based, online distance learning program, SuccessNet, and established its first satellite international programs in Israel and the United Arab Emirates.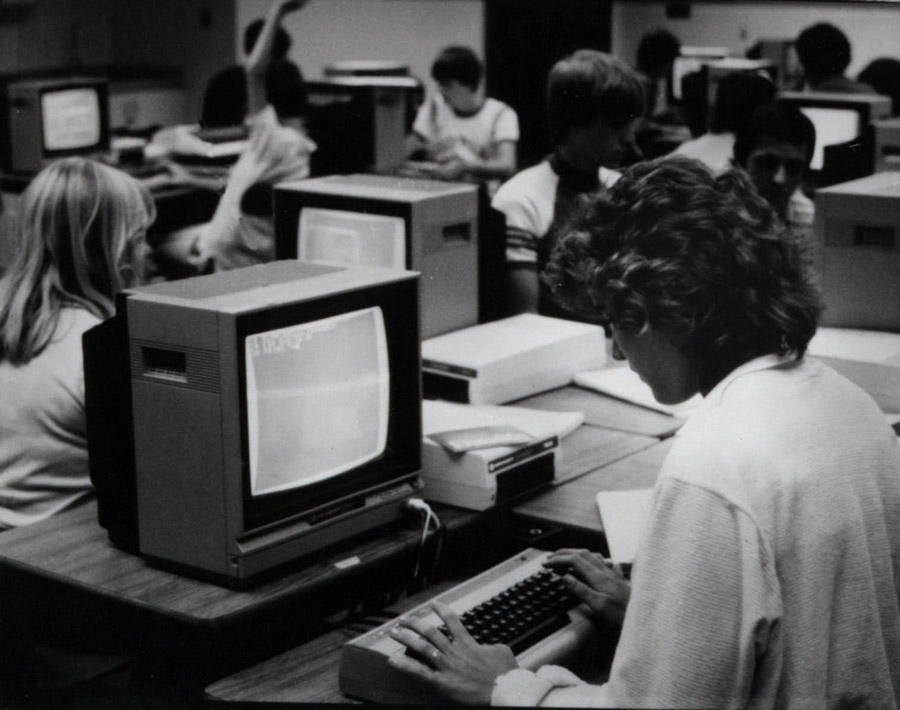 Under President Finney, the college developed its Core Division, which offers a four-year series of interdisciplinary liberal arts courses, and its Life Experience & Action Dimension (LEAD) program, which provides students with the life skills to manage their careers and finances and become engaged citizens.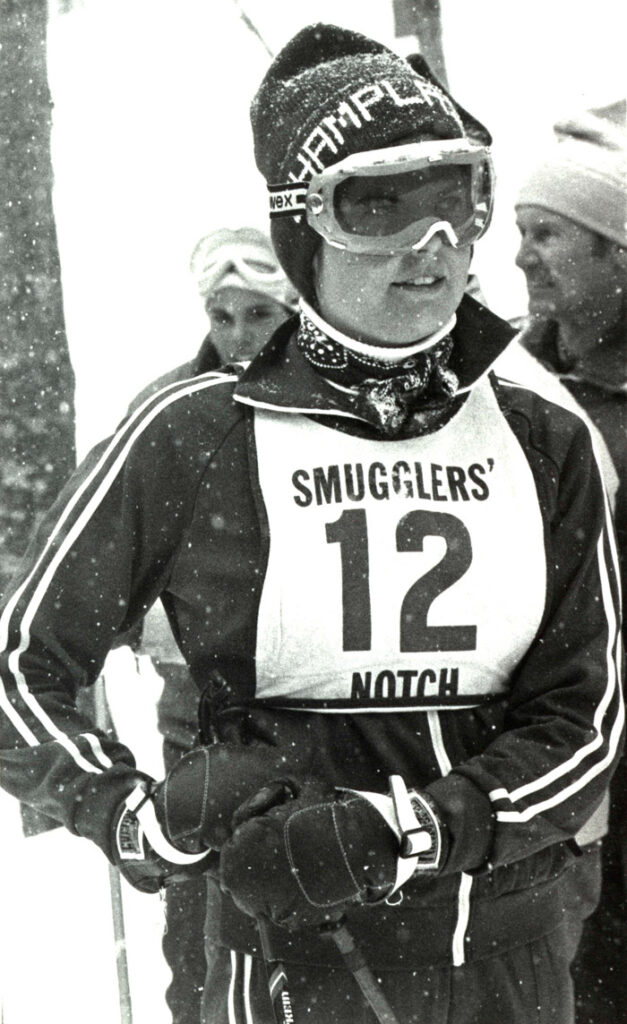 Champlain began offering master's degree and graduate certificate programs in 2002, and it currently awards master's degrees in Business Administration, Digital Forensic Science, Mediation & Applied Conflict Studies, Emergent Media, and Early Childhood Education, among others. The College opened study abroad campuses in Montreal, Canada, in 2007 and in Dublin, Ireland, in 2008 to meet the increasing global perspective demanded by employers. Additional international partnerships were developed with programs in Shanghai, China; Auckland, New Zealand; Ifrane, Morocco; Florence, Italy; and Buenos Aires, Argentina; to prepare students to be globally-engaged citizens of the world.
Champlain now offers innovative, career-oriented programs to more than 2,100 traditional undergraduate, 1,750 online adult undergraduate and 920 graduate students. In keeping with its history of relevant curriculum, the College has introduced programs in Computer Networking & Cybersecurity, Creative Media, and Game Design, among others, and established several Centers of Excellence on campus, including the Senator Patrick Leahy Center for Digital Investigation, Emergent Media Center®, Champlain College Publishing Initiative, Build Your Own Business (BYOBiz®), Center for Financial Literacy, and the David L. Cooperrider Center for Appreciative Inquiry.
In 2013, the College launched truEd Alliance, a business partnership program providing online bachelor's, master's, and certificate programs to employees of select partner businesses. In 2014, Champlain joined forces with the U.S. Office of Personnel Management to provide federal employees, spouses, and eligible adult dependents access to affordable online education in mission-critical and highly competitive fields.
Scholarships and Sustainability
While Champlain's student body has expanded significantly over time, the college has continued its strong tradition of serving nontraditional student populations, including first generation college students, veterans, students of limited economic means and single parents. In the 1980s, the College established its Support-A-Student Campaign and its Single Parents Program, a joint venture with the State of Vermont. In 2006, Champlain added scholarship programs for new Americans and first-generation college students from Vermont. Champlain's Imagine College program, currently in its sixth year, provides a summer college experience for high school students from underserved populations.
Over the past decade, the College has continued to modernize and expand its facilities thanks to strong philanthropic support from the community and friends of the college. The Robert E. & Holly D. Miller Information Center (1998), contains a state-of-the-art library facility. The S.D. Ireland Family Center (2004) and IDX Student Life Center (2005) provide classrooms and expanded student services. The Vision, Innovation, Passion Campaign raised $34 million, including a transformational $10 million gift from the Stiller Family Foundation that established the Robert P. Stiller School of Business. The College earned LEED Platinum certification for its 2010 restoration and expansion of a historic 1859 house on South Willard Street as the Welcome & Admissions Center at Roger H. Perry Hall.
As additional space was needed for administrative offices and Centers of Excellence, Champlain built the Miller Center at Lakeside in Burlington's Lakeside neighborhood in 2011. A long-standing goal to house more students on campus was aided when the Res-Tri residence halls complex and Finney Quad on Maple Street were completed in 2014.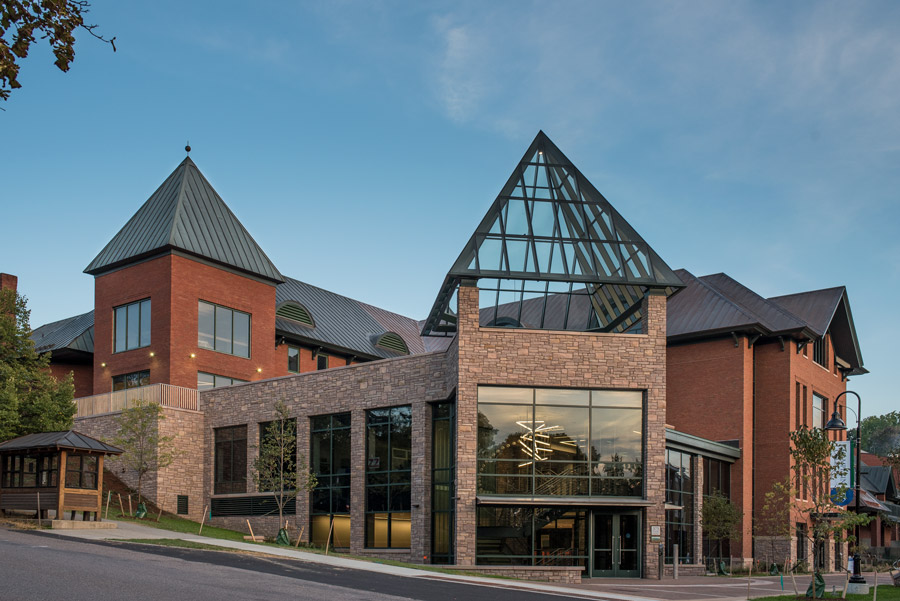 In the fall of 2015, Champlain opened its Center for Communication & Creative Media, which serves as a transportation hub, houses the school store, mail services, conference center, and dining facilities. It also provides art gallery and game studio space, film and audio studios to enhance student learning, classrooms, and faculty offices for the Division of Communication & Creative Media.
'The Ideal College'
In 2014, Champlain inaugurated its eighth president, Donald J. Laackman, who went on to launch the Champlain Futures Initiative, a collaborative campus-wide effort to deepen the College's culture of innovation and identify bold new ideas that will propel the college forward. Informed by the College's Appreciative Inquiry Center, the Initiative builds on the College's central strengths as it heads toward its 2020 Strategic Plan vision of "becoming the finest small, professionally and globally focused college in the United States."
In October 2013, writer John Tierney of The Atlantic magazine described Champlain as the "Ideal College" in an article for the American Futures project. After visiting campus, Tierney concluded that "…American higher education would be better off if more colleges tried to replicate what's going on here."
Such accolades continue to raise the reputation of the College, including U.S. News & World Report citing Champlain as a "Most Innovative School" in the North in 2016, 2017, 2018, 2019, and 2020; The Princeton Review listing Champlain in The Best 385 Colleges: 2020 Edition; and the 2020 Fiske Guide to Colleges recognizing Champlain as one of the "best and most interesting schools" in the United States, Canada and Great Britain.
A New Era
In 2020, Dr. Benjamin Ola. Akande, Ph.D., was announced as Champlain College's ninth President. Born in Nigeria, Dr. Akande came to the United States to pursue a college degree at the age of 17. He and his family hold a deep respect for the value of higher education, fueling Dr. Akande's professional success and belief in the power of education to change lives. Among a list of other impressive positions, Dr. Akande served as the 21st President of Westminster College in Fulton, Missouri, where he improved the institution's financial sustainability, strengthened academic offerings, and helped build the college's modern brand identity. Akande currently serves as the Assistant Vice Chancellor for International Affairs–Africa, and the Associate Director of the Global Health Center at Washington University in St. Louis. Dr. Akande will assume the role of Champlain College President effective July 1, 2020.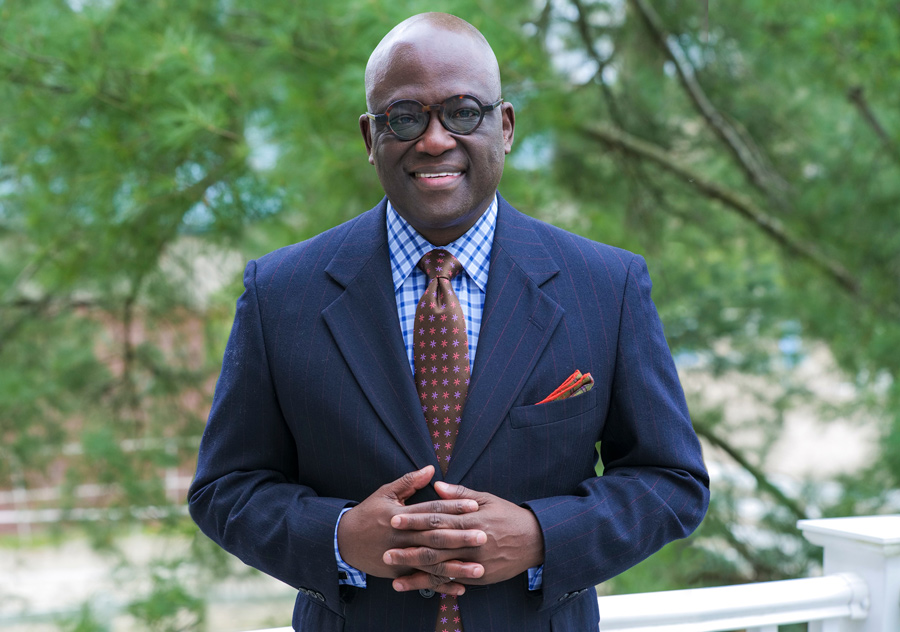 Today, the faculty, staff, and students of Champlain College reflect the spirit of the college's radically pragmatic motto Audeamus (Let Us Dare), the same spirit that has guided the innovative education at Champlain since 1878.
Champlain College's scope and stature have grown significantly since its opening in 1878, but its central mission of educating students to become skilled practitioners, effective professionals, and engaged global citizens has remained remarkably consistent.